DataCamp is an online resource that was launched in 2013 and focuses on subjects like data science and analytics. There are 380+ courses available, each taught by one of the 260+ knowledgeable professors from Datacamp itself and prestigious universities like Duke University.
Hence, DataCamp can be the ideal online platform for you if you're trying to develop or enhance your data skills. Its interactive classes are created so you may learn at your own pace.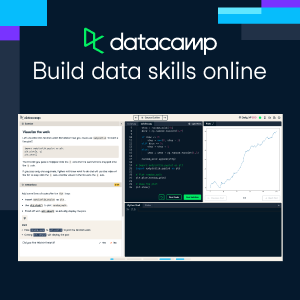 What courses does DataCamp provide, for example? If you are anything like me, you definitely have a lot of questions you want answered. I'm a complete newbie, is it okay? What makes its plans different from one another?
Let's go into our in-depth study of DataCamp to address these concerns and more.
Pro
Positivity and engagement
With several videos and interesting assignments to complete, DataCamp courses emphasise interactive learning.

Professionals with Experience
More than 260 specialists in data science and analytics.

Simple pricing structures
A page with a basic and clear price structure, which is rather welcome given that not all online platforms are as open.

Broad Range DataCamp welcomes both novices and more experienced students. Its classes are open to everybody.

Community Datacamp is a sizable and vibrant community of learners that exchange information, ask questions, and work together on projects.
Cons
Insufficient Detail in the Video
You can feel like you are missing something if DataCamps' video lectures are too brief or don't go into enough detail.
DataCamp Review Conclusion
Datacamp is an online learning platform that provides data science, statistics, and programming courses, tracks, and certifications.
All of its educational initiatives aim to assist students develop or enhance their abilities in preparation for a future in the data industry. Its curriculum, which includes coding exercises, tests, and practical projects, is quite fascinating. 
There is a course or certification to fit everyone, regardless of your level of experience or desire to land your ideal career in data science. For individual learners, Datacamp offers a Basic (free) plan and a Premium (paid) plan that you may sign up for on a monthly or annual basis. 
There are a few programmes available for Teams and Companies as well. Starting with a free trial is a good option if you're not ready to make a financial commitment.
DataCamp Courses
Its 380+ courses are bite sized and digestible for learners, combining videos with interactive exercises to create an engaging learning experience. Its courses fall into 3 main areas, including learning a new technology, launching your career and mastering a specific skill:
Learn a new technology: By following short videos that are led by expert instructors, and then practice what you have learned with interactive exercises. Its most popular Technology courses include Python, R and SQL.
Career Tracks: A collection of courses that are curated by industry experts to help you grow your data skills and advance your career. Its most popular Career Track courses include Data Analyst, Data Scientist and Data Analyst.
Skill Tracks: Gain specific expertises with learning a skill track, that is a collection, of course, curated by industry experts to grow your data skills. Its most popular Skill Track courses include R Programming, Importing & Cleaning Data and Data Visualization.