TouchBistro is the best POS system for the restaurant guest experience thanks to its table, reservation and delivery management functions.
It offers affordable monthly subscriptions and a variety of payment processors, making it ideal for restaurants.
For restaurants wishing to manage their tables, menu, and personnel, TouchBistro is a point-of-sale system. Because of its adaptable, user-friendly features like tableside ordering, we determined that TouchBistro was the perfect POS for the visitor experience.
With monthly subscriptions beginning at $69, TouchBistro offers reasonable pricing. This evaluation is intended for restaurant owners searching for a POS system with CRM tools and inventory management capabilities similar to those provided by TouchBistro.
With features like tableside ordering, TouchBistro is our top choice for a point-of-sale (POS) system that puts the restaurant patron experience first. Restaurants looking for mobile POS systems can take advantage of the company's inexpensive option. Inventory management, loyalty programmes, and payment processing are just a few of the many useful tools offered by TouchBistro.
Impressively, TouchBistro enables you to design a solution specifically for your company. Starting with the $69 monthly plan, you can tack on other features as you see fit. As a result, you get a scalable solution that can expand with your business.
Why TouchBistro Provides the Greatest Customer Experience?
A POS system for full-service restaurants, coffee shops, and cafes is offered by TouchBistro & because of features like online ordering, bookings, and customer reward programmes, it's our top choice for restaurants that prioritise the visitor experience. The programme can be used to update the menu, split tickets, send orders to the kitchen, and keep track of seating and table layouts.
We adore TouchBistro's versatility as a solution for eateries of all sizes. Smaller eateries and food trucks can get started with a cheap monthly membership and few improvements. You can add more features and hardware to help your business as your restaurant expands. TouchBistro is a scalable solution for eateries of all sizes as a result. The provider keeps the platform updated to add more services that are required by busy restaurant operators.
Pros
Your workers can easily learn how to use the TouchBistro interface.
The platform has a tonne of features designed specifically for restaurants.
Many different payment processors are integrated into the software.
Cons
There isn't a free trial or other cost-free plan available from TouchBistro.
If you add a lot of add-ons to your account upgrade, the cost will rise quickly.
The software only has a few integrations with outside parties.
Usability
The software used by TouchBistro is exceedingly simple to use and intuitive. It is iOS compatible and has a separate training mode so you can train your personnel without interfering with daily business activities.
It's basic and clear ordering page on the platform makes it simple to find the products you're looking for. We adore the fact that you can alter the software to suit the requirements of your company.
For instance, supplemental features like online reservations and ordering enhance the functionality of the software. TouchBistro offers round-the-clock phone, email, and live chat customer service if you have any issues.
Features
Restaurant administration
To arrange your seating and tables, utilise the drag-and-drop tools. inventory control To ensure that you never run out of a popular menu item, you may track inventory down to the ingredient level.
Consumer service
To keep track of preferences and view previous purchases, you can create customer accounts.
Employee administration
You can keep track of your employees' work schedules with the help of the built-in timeclock and scheduling feature.
Reports
All of your data is kept in the cloud, allowing you to access and generate reports from any location.
Online reservations
Reservation are an option for your clients.
Integrations
Popular accounting, payment processing, and inventory management apps are all integrated with the service.
Due to its feature-rich software, TouchBistro stands out from other POS systems. The company frequently updates the software, offering new capabilities to help restaurants who genuinely want to enhance both the client experience and operational efficiency. Below is a summary of some of TouchBistro's top features.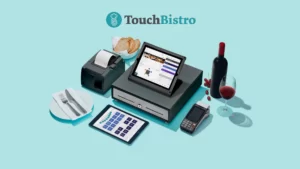 POS Software Plans
TouchBistro is a hybrid POS system, which means the software runs from an on-site server, but the data is stored in the cloud. The advantage of this is that you can continue to ring up sales even if you lose your internet connection, but your data is always available in the cloud. For this service, TouchBistro's subscription plans start at $69 per month and include these features:
Menu management
Table management
Reporting features
Tableside ordering
Staff management
App integrations